From September until November 2020 in the extraordinary conditions of worldwide pandemic, 12 volunteers from all over Europe participated in our Green Fingers project. Below we can all see their testimonies from their experience:
1. Liska, Germany

Life begins at the end of your comfort zone.
They say, we all live in our comfort zone bubble. A bubble which consists out of our environment, our friends, our family, the food we eat etc.
What happens when we leave this bubble? Will it change us, even when we only leave our comfort zone for two months?
Two months is a short time, right? There isn't much that can change during two months, especially with corona, right?
But I have learned how much you can change during two months. How much your perspective can change when you are doing a European solidarity corps project.
What is the European solidarity corps? It is a pool of projects which are supported by the European Union. These projects mostly deal with problems of nowadays society such as sustainability, cultural exchange, equality etc. While portraying their specific values all of them represent the values from the European union such as no discrimination, supporting one another etc. The projects can have a duration from one to 12 months.
Originally, I planned to go to Peru for a social volunteer year abroad, but it came different, corona happened. I didn't give up on my dreams to help others and the hope to grow personally. That's why I applied for an ESC project in Zagreb Croatia. We, 11 other volunteers from all around Europe (France, Denmark, Czech Republic, Netherlands, Ireland, Poland and Germany), took part in a project called Green Fingers, where we built school gardens. The school gardens should help children in urban areas to reconnect with the nature again and to see how valuable the nature is. We also developed and made workshops with the children about the environment and sustainability.
To specify it a little bit, here are two examples of what we did, in the first school we built two risen beds and, in another school,we planted about 40 trees.
I always wanted to be a volunteer, to help other people who don't have the privileges I had while growing up and to support the local community. Especially when you are a child, and you get in contact with people from a different country it can be a shaping experience. I'm so grateful that I could meet these young people and that we as international volunteers also had the opportunity to inspire them to be volunteers as well when they grow up.
The NGO we worked in is called OAZA, Sustainable Alternative to Community, which focused on teaching youngsters' positive values such as environmental awareness. Otherwise, they do activities for the youth like self-development workshops and have a vegan restaurant.
In the two months and all the challenges we had with corona, I have learned to understand that experience can be great no matter where you are as long as you have the right people surrounding you and I did. We experienced so much, from cooking together every day to sleeping in tents while a thunderstorm and discussing political topics with different cultural backgrounds. No matter how big or small these memories were, they taught me that you don't have to go on big trips or spend a lot of money to create great memories. Just to always have the company of someone to do something, to always have the opportunity to learn something new about a new culture.
Corona also let us face new obstacle and we had to adjust to them, with making filmed tutorials instead of present workshops. One school we couldn't go to, send us a video with the children dancing on a song for which we made a tutorial. It was really touching to see how much fun they have.
The experience and the two months may be over now, but I will always keep the memories in my heart, and I want to encourage everyone to do step out of your comfort zone! Take part in an European solidarity corps project and see for yourself how change can come into your and other peoples live.
2. Tom, Netherlands
I left home with no idea what to expect and I came back with memories of the best experience I ever had. My name is Tom Byrman, I am nineteen years old and I am from the Netherlands. On Sunday 13 September I flew to Zagreb, the capital of Croatia, to participate in a two months volunteer project called Green Fingers. It was an amazing adventure and a perfect way to see some more of the world, to meet wonderful people and to learn more about myself. I could write hundreds of pages about all the nice moments and things we did in Croatia, but in this testimony, I am going to answer questions people asked me during and after the project. What is the Green Fingers project and what kind of volunteer work did you do? The Green Fingers project is a volunteer project organized by the non-governmental organization OAZA. The main goal of the project is to raise children's awareness of environmental preservation and of course to give them a really good time ☺. We tried to do this through fun and educational activities and by maintaining the urban gardens of several schools. The project also defends a healthy lifestyle, notably through vegetarianism and sustainable development. In the beginning we mostly prepared activities and workshops that we could do with the children later on in the project. This year everything was a bit different because of the coronavirus and that's why we also made a lot of online workshops, which the kids could do at school or at home. After we had prepared enough workshops and activities we went to do them with the children on different schools in and around Zagreb. I will never forget the memory of all those children running around, smiling and laughing while they were doing the activities we prepared for them. When we came back from a school we often talked about how it went and what we could improve, with as a result that the workshops and activities went better every time we did them. httpss://www.greenfingersproject.com/
How did you find the Green Fingers project?
I found the Green Fingers project on the European Solidarity Corps (ESC) website. The European Solidarity Corps is an international organization. They make it possible for young people between 18 and 30 years old to go to another country, work for a nonprofit cause and provide them with basic means to sustain themselves, such as: accommodation, food, insurance, travel fares and we even got some pocket money. On the ESC website you can find hundreds of projects in different countries all over Europe. To participate in an ESC project, you have to sign up on their website and often you also have to write a motivational letter. After this the organization that organizes the project can contact you and this is when for you a new adventure could begin. httpss://europa.eu/youth/solidarity_en Where in Zagreb did you live? We slept together with all the volunteers in one hostel. The Hostel is called Mali Mrak and it was the perfect place to stay. There were a lot of bedrooms, two bathrooms, two kitchens (one inside and one outside) and two living rooms. There was also a kind of shed outside where we could talk, drink and listen to music till as late as we wanted. The hostel was really cool with paintings on the walls and everywhere letters and pictures from all the people who slept in the hostel before us. The owner of the hostel was very nice as long as we followed some of his basic rules, for example be quite outside after 10 p.m. and clean your dishes after you used them. One time he even made us pizza, because we were so silent when we came back from the city in the middle of the night. He also took us on a biking tour through Zagreb and showed us an impressive abandoned hospital. A special thing I liked about the hostel was that every few days new travelers came and went and every one of them had their own special story, which they would happily share with you.
How was the contact with the other volunteers?
The contact with the other volunteers was great. We were with a group of twelve volunteers from all over Europe, who had never seen each other before. Luckily, everybody in the group was very open and easy to talk to. The first week took the most energy, because we were in a new city with new people and we couldn't speak our native language. After one or two weeks we got to know each other better and also talking English all the time started to feel more normal. In our free time we organized a lot of trips to other places then Zagreb. Those adventures also really helped with creating a good atmosphere in the group. One thing I liked most about the group was that nobody judged each other and that everybody was included during the activities we did. It was really nice to live together with a group of people who in the end felt like family and to see them every day, this is one of the things I am going to miss the most.
What did you do in your free time?
We had free time in the weekends and on working days after 3 o'clock. On the working days everybody just did whatever they felt like. Some people went into the city to get a coffee, other people went shopping and some others went back to the hostel to rest a bit. I also bought a gym membership, so I could go to the gym and another girl bought a membership for the climbing wall. The weekends were usually more special. Our group really liked to organize all kinds of trips and hikes. We have been to Rijeka, Split, Zadar, Plitvice Lake and many more places. I really enjoyed these moments, because it felt like we went on a little adventure all together. We always booked a nice apartment in the middle of the city and from there we walked through the city or to the beach to swim in the sea. In the evenings we went to a restaurant or cooked ourselves and afterwards we went to a bar to dance and have a drink.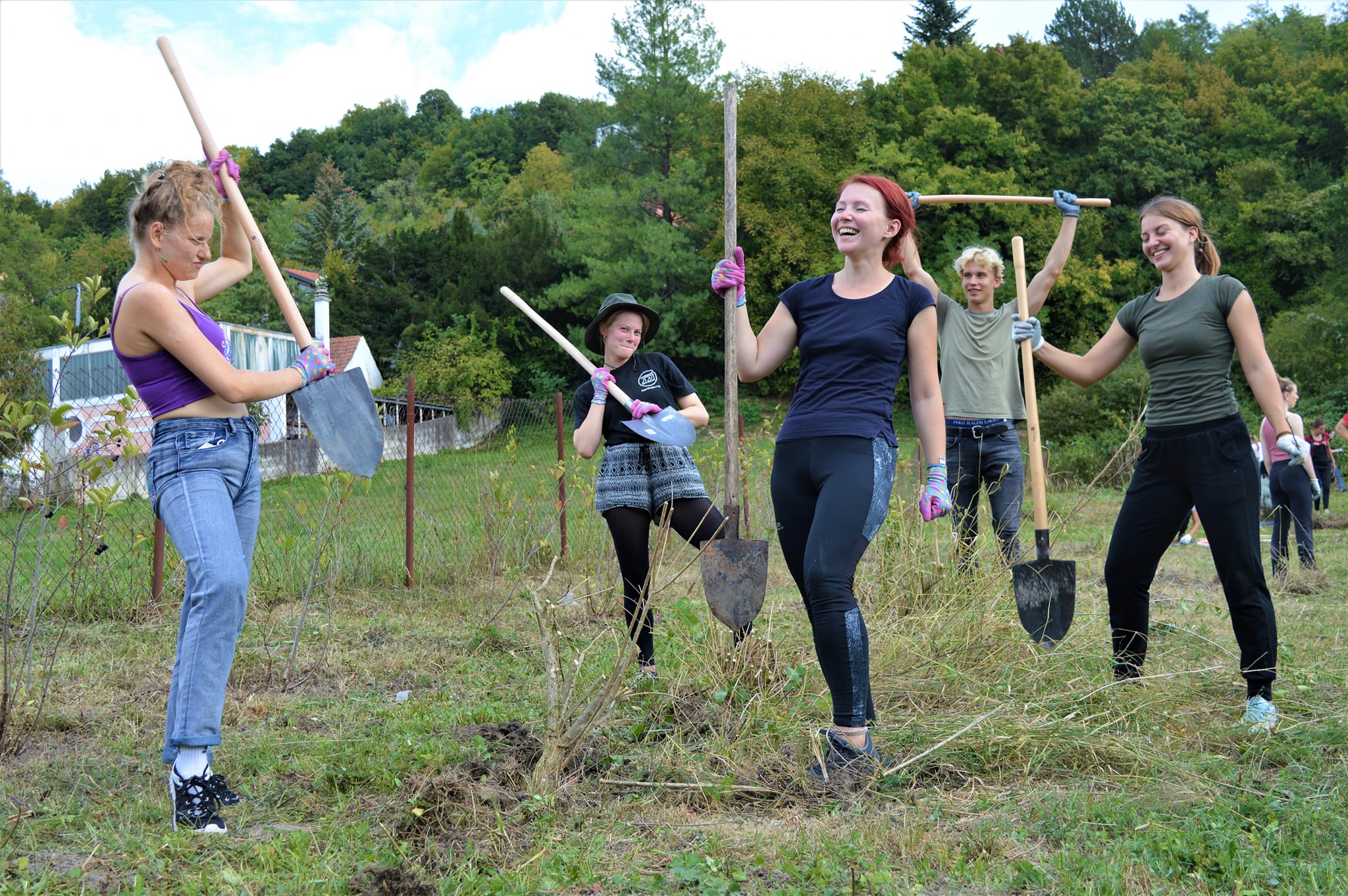 What did you learn during the project?
Before I left my grandfather said to me: 'when you come back I want you to tell me three things you learnt during the project'. I thought about this during the project and when I came back and there are way more than three things I learned, but these are the three most important things I told my grandfather. 1. The most important thing I learnt was how to handle all the different emotions I felt during the two months I was away. There were a lot of times where I felt really happy and these moments were easy. But there were also moments where I felt sad or a bit insecure and those moments were harder. Before the project I always tried to push those sad feelings away, so I looked for company or went to do something, but it never really worked. During the project I learned to just accept those feelings and to take some time for myself. This worked way better and after I realized this the hard moments became much easier to handle. 2. This project also taught me a lot about leadership. I thought about what kind of leader I want to be and I learnt good ways to organize something and work together with a team. I think that a good leader always has his or her team on the first place. He makes sure that everybody feels good and not left out of the group. A good leader also works together with the team and he doesn't let the team work for him. 3. The third thing I told my grandfather, was that I learnt that you can make almost everything happen as long as you really want it and put enough effort into it. One example happened two weeks before the project ended. A girl from Ireland told me that after the project she was going to a farm in Slovenia she found on Workaway. I heard this and it sounded really cool, so I asked her if I could join her. She said yes and instead of going home I went two more weeks to Slovenia. It was not so easy to get to the farm and Covid-19 made it even harder, but when we arrived we met some more really nice people and together we had two amazing weeks.
What is your best memory about your time in Croatia?
My time in Croatia has given me hundreds of good memories, but one special memory I have is the first weekend when we went to Rijeka with the whole group. Rijeka is a beautiful city next to the coast, and I remember just walking there in the sun and I thought by myself how cool it was that we were walking there in a city I had never seen with a group of people I did not know a week ago. This moment gave me a feeling of ultimate freedom. What advice would you give to future ESC volunteers? The most important advice I would give someone who also wants to do something like the Green Fingers project is be open for everyone and everything. If something feels good just do it and with that attitude you will end up doing amazing things and meet super cool people. Besides that, it is also important to take some time for yourself once in a while. Think about what you want to do and take some time to process all the new experiences.
I want to thank the OAZA team and the other volunteers for the great and special time I have had in Croatia.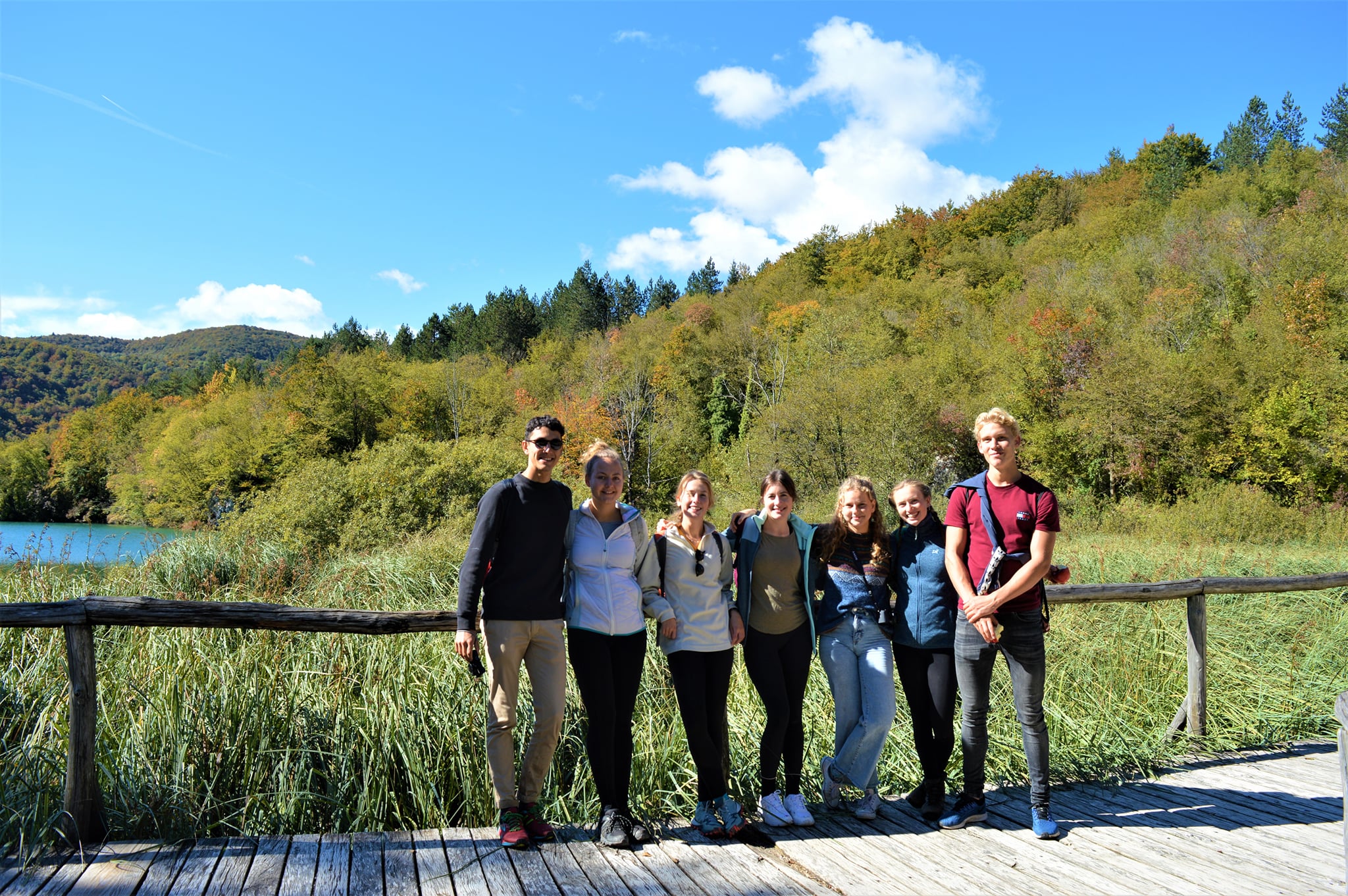 3. Maja, Denmark
2020 was a good year for me. This is how controversial statements also could look in 2021, now that there is a public hate campaign against this year of grace. The year that was the involuntary host of the all-encompassing coronavirus pandemic and everything that followed – or rather what did not follow. And yet. For my part the year became more rich in experiences than I ever could have imagined.
Despite the circumstances, I still had being a volunteer through the European Solidarity Corps at the top of my gap year to-do list. After many hours of searching for the just right projects, application writing, and a good amount of luck, I managed to participate in two ESC-projects in the second half of 2020. The project Green Fingers at the Croatian NGO O.A.ZA. became my second project, and is it this experience, that I will share here.
Aided by AFS Interkultur, which as my sending organization prepared me well for the personal, cultural and practical changes, I travelled to the Croatian capital Zagreb in the fall to spend two months there as a volunteer in the project with 11 young people from the EU. Together we were a diverse bunch from Denmark, France, The Netherlands, Ireland, Poland, Czech Republic, and Germany, who succeeded in creating a lovely atmosphere and a temporary home in the unique hostel where we stayed.
The reason why I wished to spend part of my gap years to be a volunteer, is that I want to use my skills to make a difference for the benefit of others and for an agenda more far-reaching and altruistic than e.g. my own education. Simultaneously, being a volunteer through the European Solidarity Corps is a gateway to experiencing a foreign culture in a deeper way than as a tourist because you gain direct insight and influence in local communities through your project.
We interacted with the local community through the three key objectives of "Green Fingers" by:
Helping children and young people reconnect with nature in an urban environment by working in school gardens
Helping children and young people develop competencies about environment protection, sustainability, healthy lifestyle etc. and putting them into practice using non-formal education methods
Facilitating intercultural interaction, exchange, and learning between volunteers, children, and teachers
For this reason our two months primarily went with gardening and its breaks to drink Turkish morning coffee, to conduct workshops and play games with the kids, as well as planning physical workshops for the school children at O.A.ZA.'s central oasis-office and the filming of online workshops from our hostel as a measure against the corona pandemic. However, we also attended a bird camp on the mountain Učka and worked at schools in the city of Petrinja outside of Zagreb. I have come to find that gardening is not my cup of tea – but Turkish coffee is. In the mean time, I have also found the direct contact with the kids through our workshops and games more rewarding than I expected.
Among the clearest memories, I remember being responsible for a workshop which I co-created and afterwards playing the game "Ninja" for multiple hours with the lovely kids in Petrinja. I also remember a spontaneous football match between seven of us volunteers and roughly 25 kids half the size of us, where I as an involuntary goalie was cheered on by their benchwarmers. Surprisingly, the match was in the favor of the children, even though I did my very best in our goal. Although this is to be expected in a football nation like Croatia.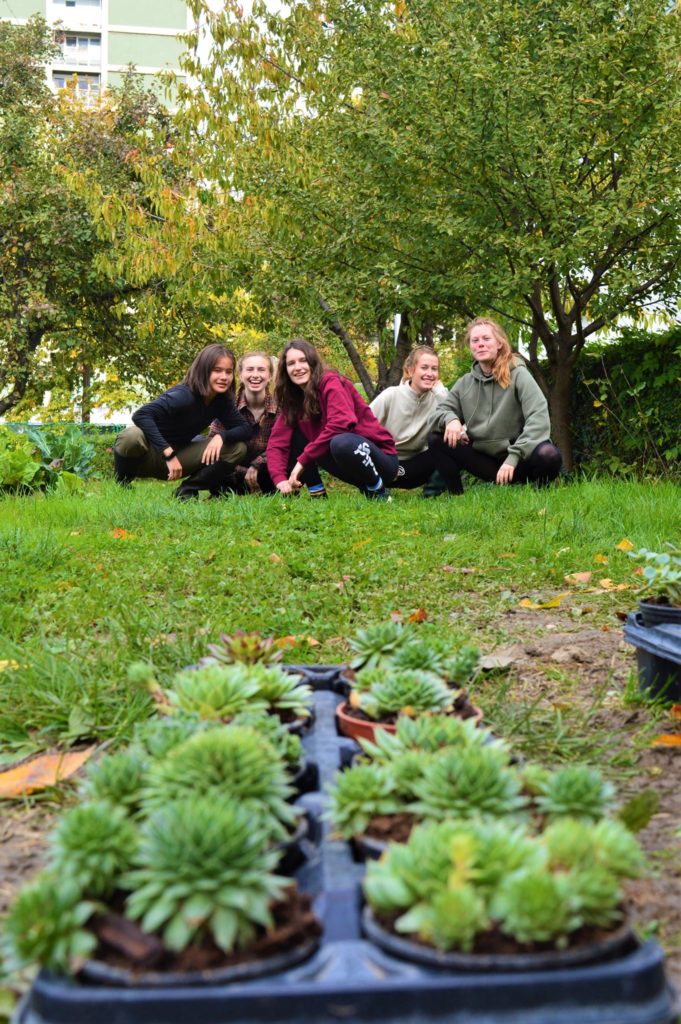 An intense football culture is only one part of the Croatian culture, which we received small glimpses of. This happened for instance through our daily life in Zagreb, with everything from visits to museums, bars and cafes to long walks in the city and grocery shopping and the broken Croatian that went with it. Furthermore, we saw a greater image of the country at the end of our project where we had ten days off to explore Croatia on our own accord. Here we travelled down along the coast where the elder part of the Croatian history was more visible than in Zagreb, and especially nature's scenic panoramas made the trip a highlight in my experience.
However, I have saved the best for last and the thing that is also one of the cornerstones in being a volunteer through the European Solidarity Corps: That is the exchange that happens internally in the group of volunteers. To be around like-minded people from different cultures and ages was incredibly rewarding and inspiring, and sharing this unique experience together also ties strong bonds. Together we have expanded our human horizons through increased tolerance, understanding and openness towards each other – and suddenly Europe does not seem that big anymore.
4. Héloïse, France
On my return to France after these two months full of surprises in Croatia, I felt like a void.
No more hostel shared with 11 other people with whom I could chat and laugh; no more of this funny but serious atmosphere while working in the school gardens or during activities with children; no more evenings doing beer pong competitions in the hostel garage; no more meals all together around a huge table; no more movie nights…
I have tried in vain to explain to my relatives what I experienced. The fact is that you have to live this experience to realize that it is incredible. But I am going to try to share with you a little taste of it, a little trace of it so that you can understand what I have lived through: an experience that has far exceeded my expectations. First of all, a simple presentation of the project is essential! The Green Fingers project takes place over two months in Zagreb. It welcomes 12 volunteers from all over Europe who are ready to raise children's awareness of environmental preservation, through activities or by maintaining the urban gardens of several schools. This project also defends a healthy lifestyle, notably through vegetarianism and sustainable development (for more information I invite you to read the article published on my blog on this subject: httpss://welcometozagreb99.wordpress.com/2020/10/06/green-fingers-project/).
We all arrived on a sunny Sunday in September in Zagreb. We were twelve in total: French, German, Dutch, Irish, Polish, Czech and Danish. A beautiful mix that kept all its promises. From the very first days, a dynamic, cheerful and creative group was formed. I can't count all the crazy laughter and discussions we had over a beer or coffee. The first two weeks of the project contributed considerably to the group's cohesion. An ascent of the Medvnica mountain (a mountain bordering the city of Zagreb), reflections on various relevant topics, a weekend in Rijeka on the Croatian coast and an intense weekend in the middle of the forest in Ucka (a natural reserve near Rijeka) were enough to develop affinities with everyone.
The weeks were spent accompanied by laughter, tears, football games with the children, wild dancing in Zagreb's bars, discoveries and visits to museums. Everyone found their place in the group. Gardening in schools was one of my favourite parts of this project. We did a lot of things to create and improve them (between wheelbarrow runs and Turkish coffee breaks).
Here's a glimpse of what we achieved:
First, the school Čučerje: we totally redesigned the garden that was previously left to its own devices and planted around 40 trees.
Second, Davorin Trstenjak School (the one where we spent the most time): after having cleared the garden of dead leaves and weeds, we planted lettuce, flowers, garlic and built new spaces for future plants. Many workshops with the children also took place. Then, the August Cesarec school, where we set about creating a stone garden. Finally, in different Petrinja's schools (Jabukovac, Ivan Goran Kovačić and Katarina Zrinska): several things were done such as the maintenance of the garden and its surroundings or the construction of a place for compost, as well as many workshops with the children.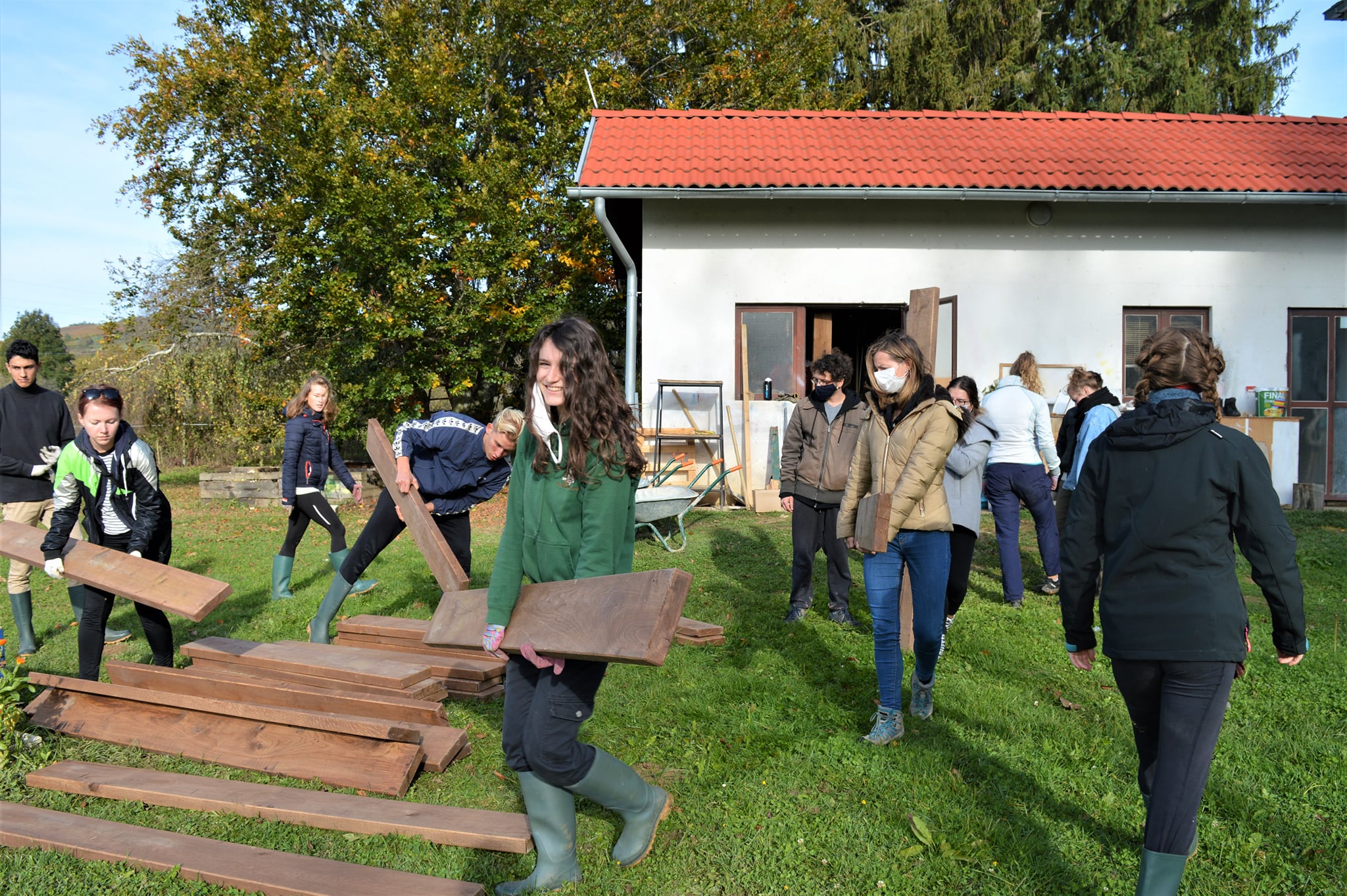 In each school children were so happy and curious to see us. The activities prepared for them around the environment worked very well, they were always up for running and discovering new things. Being in a time of global pandemic, we also produced about 20 videos so that the children of the Dobriša Cesarić school could do our workshops online. We sometimes became children ourselves again when we developed workshops for them or when we played with them. Children who are carefree of the passage of time. Unfortunately time has passed, a little too quickly for my taste.
These two months were also an experience of sharing, whether with the local population, with the members of OAZA or with the other volunteers. I have grown and learned so much about myself. I think we all learned something from each other. This is also the magic of volunteering with the European Solidarity Corps, unforgettable encounters that make us evolve and push us to be the best version of ourselves. So thank you to all those who have participated in one way or another in this project.
---
If, after reading this text, you want to become an international volunteer, take a look at the database of available projects in the European Solidarity Corps program. If you have any questions, feel free to contact us at volunteers@oazainfo.hr.
Good luck!