Another group of volunteers from all over Europe participated in our two-year Green Fingers project in the period from the 4th of April to the 1st of June.
Below you can find the second part of the testimonials:
7. Alessandra, Italy
Hi! My name is Alessandra, I am 22 years old and I'm from Italy. I recently finished my studies in communication and I was looking for opportunities that would allow me to learn more about environmental sustainability issues, to experience my independence and to meet new people from all over Europe.

The 'Green Fingers' project in Zagreb at the NGO OAZA allowed me to test myself in all these expectations. I encountered a welcoming, well-organised environment in which I really felt valued!

First of all, I found it really interesting and enriching to work with children and to choose all the most creative and fun ways to help them gain competences about environment protection, sustainability and healthy lifestyles. I always felt supported by my supervisor in managing the activities and sharing responsibilities.

In addition, living in a capital city brings with it many challenges, first of all to be autonomous. The programme stipulated in the schedule allowed us to have enough time to enjoy the city and to travel in Croatia and Slovenia.

Finally, I participated in the project and lived in the Mali Mrak hostel with ten other volunteers (who I now call friends) from all over Europe: together we shared everything, formed deep connections and supported each other in times of need.

Therefore, the balance of the experience is more than positive: it opened new doors for me and gave me the desire and energy to work on my future dreams. In this project, I really felt part of the European community and I will be keen to participate more in similar projects that realise the values of solidarity and peace that hold us together!
8. Simona, Italy
My name is Simona, I am 26 years old, I am from Venice, Italy, and I am going to describe my ESC experience of two months in NGO OAZA in Zagreb, Croatia, involved in GREEN FINGERS project. I have been the whole project with other 10 volunteers from Lithuania, Poland, Belorussia, France, North Macedonia, and Hungary. Our main task within the organization was aware children about environmental issues through the creation of workshops and doing gardening with them. We have also been doing the ''vegetarian challenge'' because OAZA promotes vegetarianism and veganism lifestyle, and I can say that everything was fine.

Talking about the context, in general, life in Zagreb is quiet but amazing. People are open and friendly; they have very good places to go out and have fun in the city. I appreciated a lot the beautiful natural places around the city that you can visit at your leisure and the ''flower culture'' that Croatia has. I had the possibility to visit other Croatian cities and every of them has a lot of spaces with flowers around.

The accommodation was nice. Mali Mrak is the hostel where we were staying, and it is full of paintings in the walls and plants outside and it usually hosts people who stay for long time so you can create a lot of connections and a sort of community.

OAZA office is amazing. Volunteers room is huge, bright and it has a huge terrace with a lot of plants and flowers. One of our tasks was also arrange the terrace and plant the plants in the rights vases and at the half of the time of the project we could enjoy our terrace and be able to have breakfast there.

I found interesting also the fact that we could choose our personal project. Some of us chose to do some manual works, other did a presentation and explanation of the own country situation and others explored scientific topics of interest to them.

I think this was a unique experience, not only for the people who participated but also for me. I was able to improve my speaking skills, I shared my knowledge with many people, I learned to organize games to make the activities more interesting.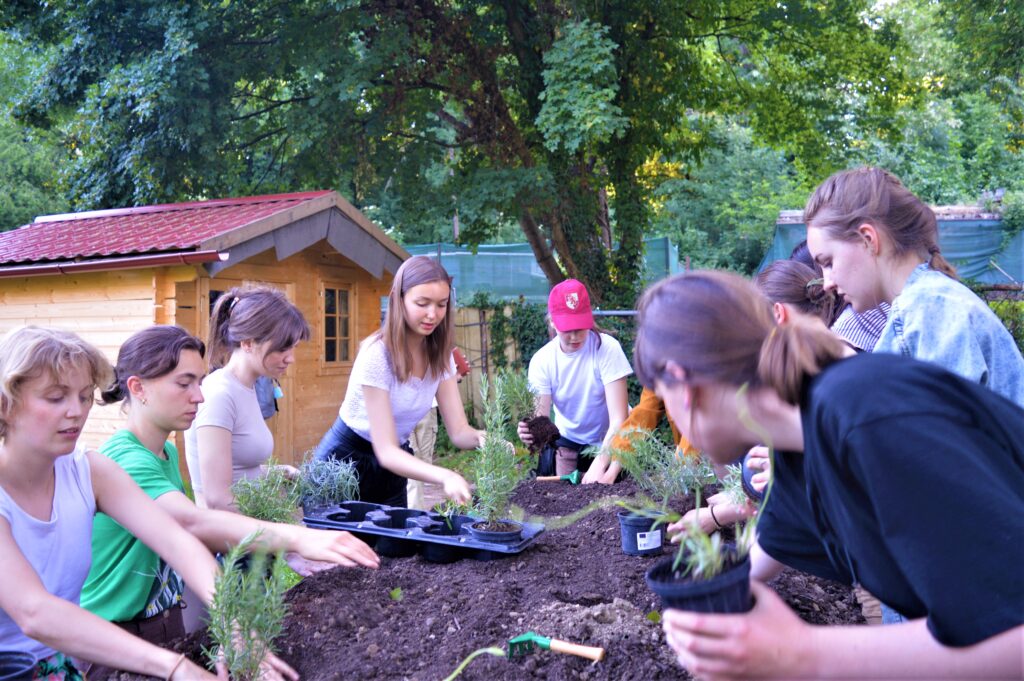 9. Lile, Lithuania
I was in the middle of my gap year without a clear plan in which direction to go next. Luckily, my friend who is doing a long-term ESC project encouraged me to apply and go abroad. So, I found myself looking for opportunities in the European Youth Portal, reading countless numbers of info packs and writing motivational letters. The project GREEN FINGERS caught my eye straight away for a number of reasons. It revolves around a topic of environmental sustainability; it gives a chance to work with children about an important topic and a chance to learn about the plants and gardening. Not to mention the perfect location! So, I applied and, fortunately, after a month and a half was already in Zagreb, ready for new adventures and experiences.

The first weeks helped us to adapt to the new environment. We were introduced to the organization, the team, office space and European Solidarity Corps programme. Also, it was important to build a team that is able to communicate, solve problems, therefore, we did several teambuilding activities. After that, we started creating our workshops. I was so happy that we could do everything we wanted and express our creativity during these hours. That is why the workshops were so different, some involved painting and DIY, others were in the form of interactive games, to introduce children to environmental issues. We were delighted every time our work paid off and the children said that the activities were interesting or that they learnt something new. Also, we worked in the gardens in a couple of schools. We gained knowledge about the importance of plants, learnt how to use the garden tools.

In addition to these activities, we also had some opportunities to learn something new. We had an intercultural evening, during which every volunteer presented their own countries, prepared a national dish. It was a good chance to expand our cultural backgrounds and understand each other better. Moreover, we had a trip to Medvenica, education about bees during International Bee Day and birdwatching at Maksimir park. These were lovely moments which made us closer, helped us to gain knowledge about nature and spend some time in it.

However, there is another side of the volunteering which is our free time. There were 11 of us living in a hostel Mali Mrak, which became our home in short period of time. During our free time, we usually organized some activities to do together. From cooking dinner together, singing karaoke, to having movie nights and late-night heart-to-hearts. Of course, we also explored the city: went for walks in the parks, had picnics, visited museums, cafes and bars. There is always something to do in Zagreb and I would say that even after 2 months, there are plenty of things I would like to visit there. It has everything one might like: beautiful architecture, parks to relax somewhere quiet, interesting museums and great nightlife. In the weekends, we visited smaller cities around Zagreb or went to the coastal cities such as Pula, Zadar, Dubrovnik. The precious memories we created while travelling are definitely one of the things I cherish the most from this experience. After these 2 months of living and working together we definitely became one big family.

I gained a lot from this experience and I believe it was a perfect timing to come and be surrounded by so many amazing people. I learned so much about myself, other people and different cultures. One of the girls once mentioned that these 2 months went by so incredibly fast, and I could not agree more. It felt like I arrived, got used to the environment, had amazing moments and then suddenly had to pack my bags and say goodbye to everyone. But this experience was the time of my life, without a doubt, and I am so grateful I had to be a part of this beautiful GREEN FINGERS family.
10. Marija, North Macedonia
"There is nothing insignificant in the world. It all depends on the point of view."
Two months spent in Zagreb volunteering on this Green Fingers project is proof of that. It all started with Croatia. I was impressed by Zagreb, and I was determined to live there for a longer period of time, not just like a tourist. I applied to this project, but I couldn't imagine experience like I had.

The first impressions started with the arrival at Hostel Mali Mrak. This is a hostel with stories and drawings on the walls. You sit outside in the yard to eat breakfast, and you have the opportunity to enlarge your map with a new city from the people you meet on the table. You meet someone and share life stories that you will keep it always in your memory, but with that person you have only a short moment in your life. Because everyone is traveling the world and trying to see the beauty that this world offers. For me moments like this are very precious, and I used every moment to meet new people and learn something from their life experience.

The impressions continue with the members of Oaza and the office that we had a chance to work every day. By getting to know them all the stress disappears, you feel accepted. Your opinion is always heard and appreciated. You increase your knowledge more and more every day and also your vocabulary in English. We helped the children with non-formal education, but we also received lectures on "Life call" in many different fields. That is one of the positive things, they help us to achieve our goals in life, so we can help children for the same thing in their life. Also, I will never forget the terrace in the office with all kinds of flowers and the view of Zagreb was magical.

I had a chance to be surrounded by lovely volunteers. If I start to write about our time together and each one of them as a person I will need days to write it all down. I cherish every moment I spent with them. And now we are like a family that is spreed all over the world.

Working with children reminded us of childhood happiness, taught us patience and taught us how to help them in their education through play. We planted so many flowers, learned how to take care of them and see them as a part of us all.

Zagreb enriched me every free day that I spent walking in the streets, viewing the architecture. My love for opera and ballet grew much more. This city has so many cultural events that I had the opportunity to visit them.

Sometimes there are experiences in life that cannot be conveyed in the same way as they were experienced, it is much more difficult to understand if you have never stepped out of your comfort zone. For me, this experience changed a lot of my views. And I would like everyone to try to go to the similar path as this one, because it will greatly increase your self-confidence and open up many other paths in your future.
11. Paulina, Poland
My two months in Croatia have just come to an end. They passed in the blink of an eye, the time has come for reflection.

When I was preparing for that time, I had no specific expectations. And despite the lack of these expectations, I still had some ideas and thoughts about the project. Now, after completing this experience, I must admit that it has exceeded all the imaginations I might have had.

The first amazing experience was coming to our accommodation – Mali Mrak hostel. The place itself is incredibly artistic and exceptional. I immediately felt like I was at home. I also had some concerns about living with other people in the room for 2 months due to the fact that, in general, I lived alone for many years and I had my own space and privacy. I was afraid that I would feel overwhelmed by this, but to my surprise I did not feel it at all! I have to admit that now, after returning home, I miss girls and these evenings with chats together.

I also have to mention the owner of this place – Igor is at first, a very closed off guy, quite cautious towards volunteers, but on the other hand a person with a big heart 🙂 He admitted that our group is unique, we built a special connection – which resulted in several pleasant evenings organized by him 🙂 Gin and tonic Night and Pizza Day.

The first weeks in Zagreb were very peaceful. Every day, the coordinators prepared introductory activities for us to the project, for which I am very grateful. I think thanks to these first workshops, we avoided the shock of the new place and environment. We learned about the origins of the organization, the Green Fingers project itself, ESC Projects, our practical activities within the project (like how to prepare workshops for children, gardening etc). Everything was organized very carefully. They also prepared a lot of team work activities to build connections between us.

In the first week our supervisor took us a short tour of the center of Zagreb, where she showed us the most important places in the capital. OAZA team also prepared for us an educational trip to Medvednica, in which we were discussing leadership.

After 2 weeks of adaptation, we began to slowly prepare workshops about the environment, ecology, language and culture differences for primary school children. These kinds of activities could improve our creativity and I really enjoyed that time in the office. Working with kids also brought me a lot of fun. Despite the language barriers, there were no major problems with communication with kids. Some of them could speak English and were willing to help us to communicate with other children. I was also positively surprised that many of them were open and willing to play and participate in activities 🙂

During these two months, we also organized 2 Garden Festivals. One was in Zagreb and the other one was in school in Petrinja. During these days we, together with teachers and students, painted garden furniture, polygons on the pavement, and took up gardening work.

During the ESC project, each volunteer has a chance to carry out their own personal project. During these two months, as part of personal projects, we for example learnt how to crochet (as a result, each of us gained a new top or bikini :D). We also organized a thrift shop and expanded our knowledge about the situation in Belarus. In addition to activities and games with kids, another task of our project was to work in the gardens at schools in Zagreb.

I am really glad, because my language skills improved during these 2 months. I broke my language barrier and I am really proud of it! 🙂

For me, these 2 months were primarily learning to work in a group of diverse people with completely different personalities, backgrounds, life and cultural experiences. I certainly gained more patience, understanding and internal peace. Before that, I had a very busy life, both professionally and privately. The sheer volume of duties, time pressure and a multitude of things on my mind made me feel overburdened and sometimes tired with life. This experience has taught me that everything can be done with peace of mind.

Jasmina and Mile were wonderful coordinators, welcomed us beautifully and they were a huge support during this adventure. I really felt at home among my family 🙂 I also want to thank the rest of the OAZA team: Filip, Andrea, Branko, Maria and Hanna for making this time such a special experience.

And last but not least I am so grateful that during this journey I had the best possible company in the world – 10 amazing, unique, smart and courageous women. They stole my heart and I believe that without them it would not be such a special experience. Also it makes my heart full that from now I have 6 more countries in this world (Belarus, Lithuania, Hungary, France, Italy and North Macedonia) I can visit and I will find my dearest friends there.