Another group of volunteers from all over Europe participated in our two-year Green Fingers project in the period from the 4th of April to the 1st of June.
Volunteers Maryna (Belarus), Léanne, Lila, Lise and Soline (France), Amelie (Germany), Dorottya (Hungary), Alessandra and Simona (Italy), Lilė (Lithuania), Marija (North Macedonia), and Paulina (Poland) organized and conducted entertaining and educational workshops with children (on the topic of sustainable development, environmental protection, foreign languages, etc.), conducted two Garden festivals, gardened in the school gardens of partner elementary schools in Zagreb and Jabukovac near Petrinja, organized and held an Intercultural night, conducted personal projects. Implemented Bee day awareness, with cooperation NGO BINGO, where they had a small education about bees and helped make raised beds and planted aromatic and honey plants. Besides working very proactively, they also relaxed a bit along the way by hiking on Medvednica (along with our colleagues Branko, Mile and Jasmina), watching birds in Maksimir (organized and implemented by volunteers and employees from the BIOM association), and marked World Bee Day thru volunteering action (organized by NGO Ocean Znanja and NGO Bingo).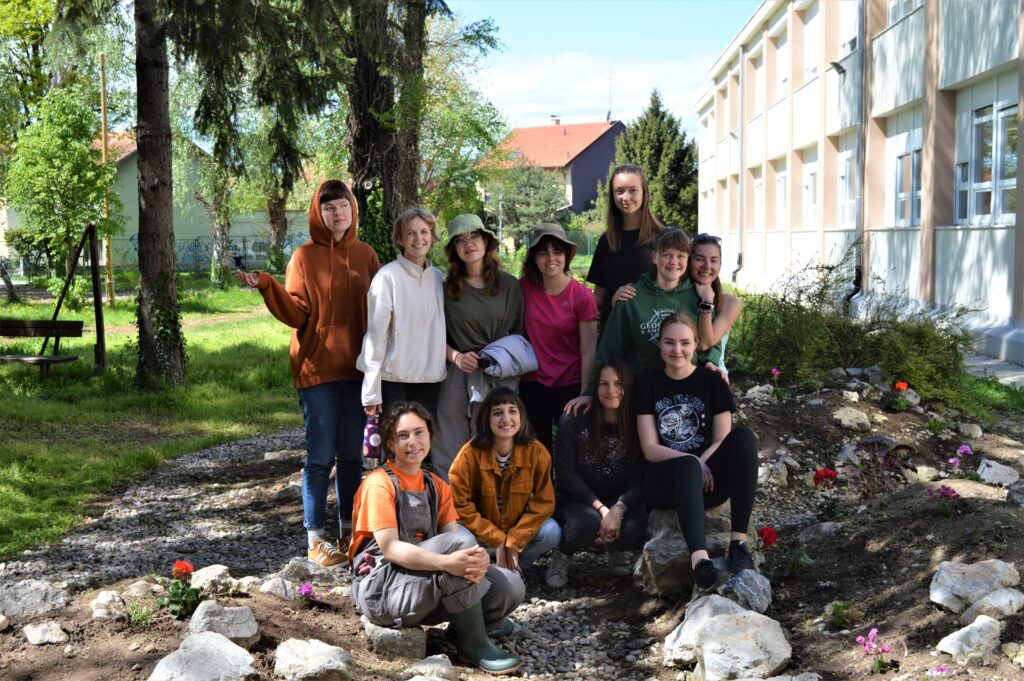 Below you can find the first part of the testimonies:
1. Maryna, Belarus
Bok, Ja sam Marina.

I spent two months with 10 volunteers from North Macedonia, Lithuania, Poland, Italy, France and Hungary in sunny Zagreb, Croatia. Before coming to a short-term project, I had no idea how rich my time here would be! Our international team was involved in one of the directions of the local NGO OAZA – "OAZA ZA DJECU": conducting workshops for children in public and private schools, organizing activities at festivals and gardening Interaction with the environment is the main direction of the project. I was delighted with the opportunity to improve my knowledge of planting and naming everything green that surrounds me :)))

One of the conditions for participation in the project was the agreement to "accept the vegan challenge". My host organization has its own bistro in the city center with exclusively vegetarian items on the menu. We prepared breakfast and dinner for ourselves, but OAZA Joyful Kitchen provided us with lunches during the week. Every week I discovered different flavor combinations and got to know the potential of vegetarian recipes.

A definite challenge for me was life in a hostel. On the one hand, I bumped into people from different parts of the world almost every day and was glad to have long evening conversations, but at the same time I forgot what it was like to have personal space. Fortunately, Zagreb has a huge number of parks and small squares for quiet walks and relaxation. Literally 20 minutes from the city center and you can hi-kit. Over time, I managed to find a balance and I sincerely fell in love with life at the MaliMrak hostel, every person who became part of this place!

In conclusion, I would like to mention joint activities with volunteers from other organizations, bird watching, dancing in the rain, karaoke, traveling ..

Only two months .. but so warm, sincere and definitely unforgettable thanks to the people who were there
2. Léanne, France
Can you introduce yourself in a few words? (Your first name, your age, your nationality, your studies/work…)

I'm Léanne ARNOLD, I'm 22 years old and I come from France. I've just finished my degree in geography last June. I'm passionate about environmental issues and contemporary stakes. I wanted before applying to master's degree's taking a gap year in order to develop other competences and to travel around Europe. That's why I was in Croatia for 2 months.

How would you explain the project to someone who doesn't know it?

The GREEN FINGERS project aims to gather young people aged between 18 and 30 years old coming from 7 (or more) different countries around a common goal: raised environmental awareness and educate about cultures diversity among children and local community. This goes through the creation of workshops about important topic such as waste management, renewable energies, endangered animals, and sustainable ways of life. Moreover, through this project, the OAZA association aims not only to show us another way of life through the vegetarian challenge of two months but also to give us the opportunity to acquire new knowledges thanks to the workshops created by the others volunteer. Indeed, this project gives us the opportunity to create a personal project link to the main topics. For instance, during my project one of the volunteers create a blog, another did a workshop about the actual tensions in Belarus, and I organise a clothing drive.

Why did you decide to come here and participate in this project?

I was in the middle of my gap year, and I was looking for a European solidarity corps (ESC) that propose activities link to my studies and my personal interests. I wanted to go to a short-term ESC in a country where I never was, to be able to discover as much countries as possible during this year. The GREEN FINGERS project matched all my criterias.

What do you like best about this project and your work with OAZA?

The things that I liked the most are the liberty that offer the association regarding the content of the workshops and the personal project. This project clearly helped me to develop my creativity, to improve my skills in project management, leadership and communication. All the days are different, impossible to be bored when you are part of such an adventure.

And in the community life, the life in Zagreb?

Zagreb is an amazing city; I was very surprised by the among the green spaces and the quality of the architecture. It's a very lively city, there is always something happening and there is a lot of artistic places to discover. Regarding the community life, I would recommend you try this at 100%, I lived surrounded by amazing, intelligent, and adorable girls for 2 months. The life at the hostel was compose by chill time, profonde discussion, movie evening and parties in Zagreb I made strong friendships there, and I definitely want to see these people again!

What have you learned since you've been here? About working with children, about the environment and ecology, about yourself.

I have learnt a lot in all these field. I discovered that working with children is less stressful than I imagined and that I love to interact with them and transmit my knowledges to them. Moreover, this project was a great opportunity to practice my English. Otherwise, I learnt a lot about myself thanks to the workshops and especially through the discussions with the other volunteers. Their personalities, open mindedness, and their ways to see life really helped me to better know myself. I've evolve a lot, I'm more creative, outgoing and I gain in self confidence.

What are your plans after this volunteering?

After the GREEN FINGERS project, I will continue to discover Europe. I plan to do a bike trip from Basel to Wien. Furthermore, I applied to others European solidarity corps for this summer. I hope they will give me as much as this first experience. Then, in September, I will start again my studies in France!

What would you say to someone who is hesitating to go on a volunteer project?

I would say that they don't need to hesitate, just go for it and you will enjoy! It's an incredible opportunity to travel, meet new people from different country, to acquire new skills and to have an amazing life experience.
3. Lila, France
My name is Lila, 21 years old and I am from France. I graduated after 2 years of chemistry studies, and I decided to take a gap year before my studies in forensic science.

If you ask me to explain the project, I want to say that: The project called GREEN FINGERS and organized by OAZA + for 2 months + almost 11 people + in Zagreb (Croatia) + between the OAZA's office and some primary school + discover vegan food + environmental awareness addressed with children through activities and workshops created by us + of course gardening!

I choose to join this project because for me the environmental cause is an emergency so if I can help and the new generation and learned more about that thanks to everyone and apply all that I would have learned to my daily life afterwards. I also choose this one because I wanted to meet new people with different culture than mine, improve my English. Moreover, the vegan food part interested me a lot.

Finally, it makes sense with my desire to take a year of security without my activity during this one is of concrete link with the field of my studies. Simply to learn new things in a different way.
This European Solidarity Corps allowed me to discover new incredible people in a fantastic new city by this project was great!! I also love Dorottya's personal project, learning to crochet and I know I will continue!

Sharing ideas with everyone in the team for prepare workshops, did it after with the kids it is a pleasant feeling of satisfaction!!
4. Lise, France
Ja sam Lise. Dolazim iz Franscuske. I am Lise and I am from France. This is the Croatian phrase that I know by heart. Indeed, I have to use it often when I was a Green Finger's volunteer during 2 months of 4 April until 1st June 2022. I'm a French student of 21 years old.

I wanted to try something else than my studies to discover, have another view of the world, and I wanted to feel useful after the
pandemic. So I choose to apply to the Green Fingers project and I have been selected. Obviously, before to go I was a little stressed and I have some apprehensions : Will I like the experience or not ??? Is it a good idea to try this project ???

Anyway, I take my plane ticket, flexible of course and I arrived in Zagreb, the capital of Croatia in a really but tiny airport. After that, I took the shuttle bus and Jasmina welcome me to the Bus Station and accompanied me to my hostel. By the way, the hostel is really a cool and cozy place, the owner is nice. Once there, I met the others girls. Besides, at the beginning of the project we did a hiking together organized by OAZA to strengthen bond between us.

What was my volunteer role?
In this project, we worked in team (we are 12) and together we have to created workshops for kids about different topics related to sustainable development, environment… We tried as much as possible to make funny and interesting workshops. The main objective was to make the children think about it. Moreover, we also have been gardening in schools.
Before games, we have been doing energizers, and we have also sung songs and choreographies for the youngest, they loved it (and so do we). Besides, we also participated to 2 gardens festival where we did gardening, painting, draw polygon on the floor. Most of the children speak English well, so it's easy to communicate.

Schools have really welcome us well with coffee and cookies.

And what did you do after the work?
I spend my free time with the other's volunteers to visited Zagreb, to walk and to cook together, to go to Jarun (a lake)and enjoy the many parks of this city. Besides, I also loved to speak with the guests from the hostel and I also meet people from Zagreb, and like that learn more about their cultures and country and most important, to spend a good time together. Moreover, I did a touristic turn of the city, I have been to a cinema, I have seen street spectacles and museums (special mention to the broken relationship's museum)… But my favorite thing was probably to talk about everything and nothing with my friends.

I did a trip to the coast in Zadar, a beautiful city with magnificent buildings, and I really laughed during this travel.

What I have learned from this project?
I learned how to create workshops and how to plant an apple tree, I have improved my English, I became less shy, to be more relax and I learned to how interact with young children. In addition to, I learn to be more grateful for what I have and more open-minded. But above it all, I managed to get out of my comfort zone.

For everything that I have learned during these 2 months, I'm really thankful to the OAZA team and to the others volunteers.

What are my plans after this project?
I want to finish my license, and I am more motivated now because of everything that I saw there. By the way, I want to try to travel more often to make amazing memories like the ones I created in Zagreb.
5. Soline, France
Having a few months free following the end of my studies, I decided to register for the European Solidarity Corps without really having an objective. And fortunately, I couldn't have imagined what would follow.

Indeed, I quickly found the announcement for the OAZA "Green fingers" project, which I liked a lot.

Without much hope at first, I was finally selected to participate in the project.

So, I left home at the end of March for Zagreb.

The stress of the arrival disappeared quickly when I met the other volunteers and the team. Indeed, we received a very warm welcome from the association which showed us that we were more than volunteers but real members of the association for 2 months.

The first few weeks were mainly dedicated to team building activities, presentations of the association and collective reflections on the environment, volunteering, etc. This allowed us to build a very strong group relationship and to find our place.

Afterwards, our role was to create activities for children on environmental issues to raise their awareness of environmental issues, interculturalism… We were all able to express our creativity by creating various activities for the children.

During these two months I also learned to live in a community. We managed to build a very strong and caring group relationship which made living together very easy. Moreover, staying in a hostel allowed us to meet a lot of people from different countries.

Life in Zagreb was also very pleasant. During our free time we had the opportunity to walk around, to go to museums, to parks, to enjoy the social life and the animations of a big city (bars, festivals…).

This experience taught me a lot, about myself, about life, allowed me to have an open mind and a lot of additional knowledge. I will now go back to my studies, but I will definitely try to participate again in a volunteer project one day.
6. Dorottya, Hungary
Having a gap year was my dream as a teenager. This dream started to become true in the September of 2021. I traveled for six months in three continents and I have to admit that I got tired. I had no desire to go to a new place for a short period of time, get to know numerous new people, say goodbye and start over, meanwhile trying to navigate the country, having the appropriate security measures, taking care of finances, applying to projects and figuring out where I want to go next (at some point I did not know where I will be within one day). At this moment I decided to go for a short-term ESC in Zagreb, as it had most of the aspects I desired. It was spatially and culturally close to my home (Hungary), it was a safe environment, we did not have to worry about finances and it was longer term than my travels before (two months). I craved routine, slowing down life and deepening relationships with people and places. So, unusually, the short term ESC experience was not a step out of my comfort zone, but a step back into it for me. And man, what an experience it was!

The first word that comes to my mind if I think about what this experience gave to me is community. As one of my friends said, it was a moment of regrouping. There is a deep beauty in sharing your life in all its aspects with other people. We were a group of eleven girls and it was perfect just like that. Our extended family included the colleagues of OAZA and the cool people we got to know in the hostel we stayed at. Oh, that hostel would deserve a whole other article. In short, it became a real home to us and it felt very weird when at the end of the project new guests started to show up in "our" rooms.

The work we did was very creative. I enjoyed the free space we had to express and execute our ideas. I loved working with children, they are such lovely, funny and interesting little creatures. I gained inspiration, direction and energy for future projects and plans.

In our free time we traveled (me to Plitvice lakes, Samobor, Ljubljana, Dubrovnik, Split), did acroyoga, had cultural movie nights, went to karaoke, on dates, explored the cool bar scene and the most amazing parks in Zagreb, participated in some shitty parties, danced in the garage, cooked together and crocheted, a lot.

In this inspiring, loving, free and safe space, I regained my energy and drive for traveling and exploring the world. The goodbye was and still is difficult and painful, but I am cherishing every moment of it, because this means that the experience is still alive in me. And I am forever grateful to the people, the city, the NGOs and my travel burnout to make me have this experience.