From September 19 to October 24, ten volunteers from nine countries participated in the Green Fingers project, making up the autumn volunteer team of the European Solidarity Corps.
Volunteers Nana (Belgium), Jasmin (Finland), Priscilla and Elise (France), Nika (Georgia), Atilla (Hungary), Elena (Netherlands), Anna (Poland), Carlota (Portugal), and Elisa (Spain) is gardened in the school gardens of partner elementary schools and one kindergarten in Zagreb, painted outdoor polygons for kids in one partner primary school, organized and held an Intercultural night, and conducted personal projects. The program provided different avenues for volunteers to embrace and try on different activities, from working on the immediate project tasks to enjoying hiking to Medvednica, watching birds in Maksimir (organized and implemented by NGO BIOM), and participating in educational activities to raise awareness of the importance of trees and the "3 billion trees" initiative through familiarizing Maksimir trees (organized by NGO Ocean Znanja and youth from "Kvart po kvart" project).
Spending a month and a half in Croatia was a dream I had been manifesting for some months. It was actually one of the things that motivated me through the last semester of my senior year in high school. But just travelling around Europe didn't make me feel useful. Since I have done a lot of Erasmus+ projects, I decided to look through the ESC portal for some projects that are available in Croatia. The organization O.A.ZA. immediately grabbed my attention because my family used to have a garden in our backyard back in Ghana and I personally wanted to learn how to grow and take care of plants. I want to have a garden in the future and for the meantime I can have some house plants. When I got the email to schedule for an interview, I got quite excited. Even though it didn't mean I was selected yet, I had a feeling everything would work out perfectly, and it did. Two weeks after my interview, I got an email saying that I had been accepted to join the project. If there were cameras to film my reaction when I read the email. It was like I got accepted to the university I had been dreaming about since childhood. There were still a lot to be done before I left but I had two months to figure it all out and say my goodbyes.
Waking up on my first morning in Croatia was quite unreal for me. I had been planning for a long time. Even had moments where it seemed like I would have to cancel at the last minute but now here I was in Grad Zagreb. I had a very interesting first weekend in Zagreb with my luggage first being delayed and then having to share a room with strangers who I didn't know because they were sleeping when I arrived. One of the perks of arriving earlier than the other volunteers was that you get to meet one by one so you don't feel overwhelmed. The first few weeks of the project didn't go as planned and the weather played a big factor in that. It was raining when we woke, when we were leaving for the office, whiles in the office, leaving the office, cooking dinner and then as we are going to bed. No one was really prepared for it. Gardening was the main reason why all of us joined the project and not being able to do that wasn't a good feeling for anyone. We did other stuff that have something to do with gardening or things around sustainability and vegetarianism. We made posters for World Vegetarian Day and World Animal Day. We also made signs to indicate certain sections of the garden in a school. But the best thing that came out of all that time in the office was the bond that we created with each other. We played a lot of team building games, told stories, shared interests and we also sometimes shared plans for the future. That's where we mostly bonded with each other because a lot of people had the same future plans so they started to share opinions and ideas about them. Although we were bummed out about the fact that we weren't able to do a lot of gardening as expected, we got the chance to hang out with each and create a strong bond. Living in the same place also helped a lot. Helping each other cook or cooking together as a group was something we did a lot. We had movie nights where some of the best sleeping pictures I have seen in my life were taken. The hostel itself was quite nice. Enough space for us to come together and also be able to be by yourself if
needed, but the owner made it feel less homey for us sadly. The good thing was that we had one another to help navigate the situations that had risen in the hostel. Other situations that rose up within the project itself also caused tension some tension between volunteers and the organization. It was all brought up during the Midterm evaluation and a meeting was organised where everything was discussed. Conclusions were made and improvements were promised so the project could a successful one for everybody. Having good weather and being able to do some gardening work made the second part of the project better. We went to different schools where we got to plant trees and flowers. At one school, the kids came and helped us plant some trees, which was nice. 
We were also given the chance to plan some activities with some kids at another school. The games we chose were very fun and the kids loved them. The other two activities also went on successfully and everyone was content about them. 
The six weeks I spent in Croatia is something I never going to ever forget about and it always feels cool to say that I used to live in Croatia. I made friends that I'm definitely going to keep for the rest of my life and since they live all over Europe, it gives me the perfect excuse to travel to other countries. The whole experience was a great way for me step in the adulthood. Learning to cook, making budgets so I don't spend all of my money and amongst other stuff are all the lessons I will be taking from this adventure. I got to learn from some very amazing people and I also got to learn more about myself like how very funny I am. I think I would destroy a Stand-Up comedy tour with my partner Attila and if he wants Nika can be the opening act and sing some songs. I just realized we also have a lot of people who dance in a club or used to. Now that everyone is going to be involved, it can be a big show I will keep on suggesting ESC projects to everyone that I meet from now on especially teenagers because it's an experience that enriches your life and helps you discover who you are and who you want to become. 
                                                         – Nana, Belgium
I chose to start my gap year with this volunteering project. For me it was to have a completely new experience. I felt like it was something I really needed to do. And after reading the project description I felt like the project was made for me. Sustainability and the environment are really important topics for me. This was a great opportunity to experience and learn new things, meet new people and live abroad. 
I started my volunteering journey feeling excited. I was so eager to begin my adventure in Zagreb, volunteering the next 43 days. I had some expectations, mainly the things promised in the project description and some expectations just for myself. 
My life turned a new leaf when I moved into a cool hostel with nine other volunteers and of course the guests. This opportunity is definitely very unique and intense. Spending 24/7 with same people, learning and experiencing everything together, living together and working together. Exploring the new hometown in a foreign country. It was something I never thought about experiencing. After the first days I already felt really connected with the other volunteers and I felt like our energies matched amazingly well. Little by little we were growing together and finally we became a family. Together we experienced so many awesome things in the project activities and also in our free time. We learnt to know each other very quickly and very deeply because we spend every day together. We shared everything together, the good and the bad and it definitely brought us more together. What amazed me was that we were able to support each other during everything.
We shared our thoughts and feelings and everybody was heard. It has never been this easy and fast to get to know new people and become so good friends with them. 
Our main activity in this project was natural gardening. Unfortunately, we didn't do that as much as I expected or in the way I expected. I feel like there was so much more to learn. But gardening was fun and interesting. We planted many new plants and I got to know a bit about how to manage a garden.
Other big part of our activities was making polygons. We put learning stickers around school and we painted games for children outside. We were supposed to also clean local areas and have garden festivals but we didn't do those things which made me feel a bit sad and disappointed. 
In my opinion the biggest and most important part was to get to know new amazing people. To be able to communicate with them in English and learning things from their countries and cultures. In fact, one of my favorite memories is the intercultural night. The night was full of good food, warmness and happiness. It was a chance to get to know each other's cultures and traditional foods and just each other. 
In the project I gained more knowledge about the world. I learned so much about new cultures, Croatian culture and other volunteers' cultures. I learned a bit of new languages and improved my English so much. My English vocabulary expanded very much and speaking it feels quite natural nowadays. It is incredible that the new people I met only know me by speaking English. I'm definitely much more confident using English now.
I'm much better at communicating and sharing my thoughts and feelings. I learned about team building and teamwork. I have definitely become braver and more independent. And I'm more eager than ever to learn more about the world and to experience new things. 
Even though the project wasn't what I expected and I experienced feelings of frustration and disappointment, I wouldn't change anything. I don't regret going at all. It was unbelievable six weeks. I met wonderful people. I experienced so many cool things and I learnt so much. 
                                                       – Jasmin, Finland
Hi, my name is Priscilla, and I am from France. I finished my studies in accounting, and I wanted to take a break before signing a new contract. That's why I started the ESC Green Fingers adventure, I wanted to discover a new country, a new culture and meet new people.
The first week was the integration phase through team building activities and thanks to this we created a good group cohesion between the 10 volunteers. We had a tour of Zagreb and an introduction to Croatian by our super supervisor Jasmina. This volunteering is also a cultural exchange because we all came from different countries. We had an intercultural evening to present our country and we had to cook a speciality from our country which had to be a vegetarian version. We went to several schools in Zagreb, for example we did some gardening, we put stickers in the corridor of the primary school so that the children could learn to count and the alphabet.
During our free time, we explored the country, we went to a lot of museums, there are museums for everything in Zagreb, it was fun. We went to Plitvice to see the waterfalls of the natural park. We even spent a weekend in Slovenia. And during the last days, we were on holiday
so we took the opportunity to go down to the coast for 4 days to visit Split.
This experience allowed me to progress in English, to meet new people, it taught me a lot about myself, about the importance of communication, it allowed me to have an open mind and to get out of my comfort zone.
                                                       – Priscilla, France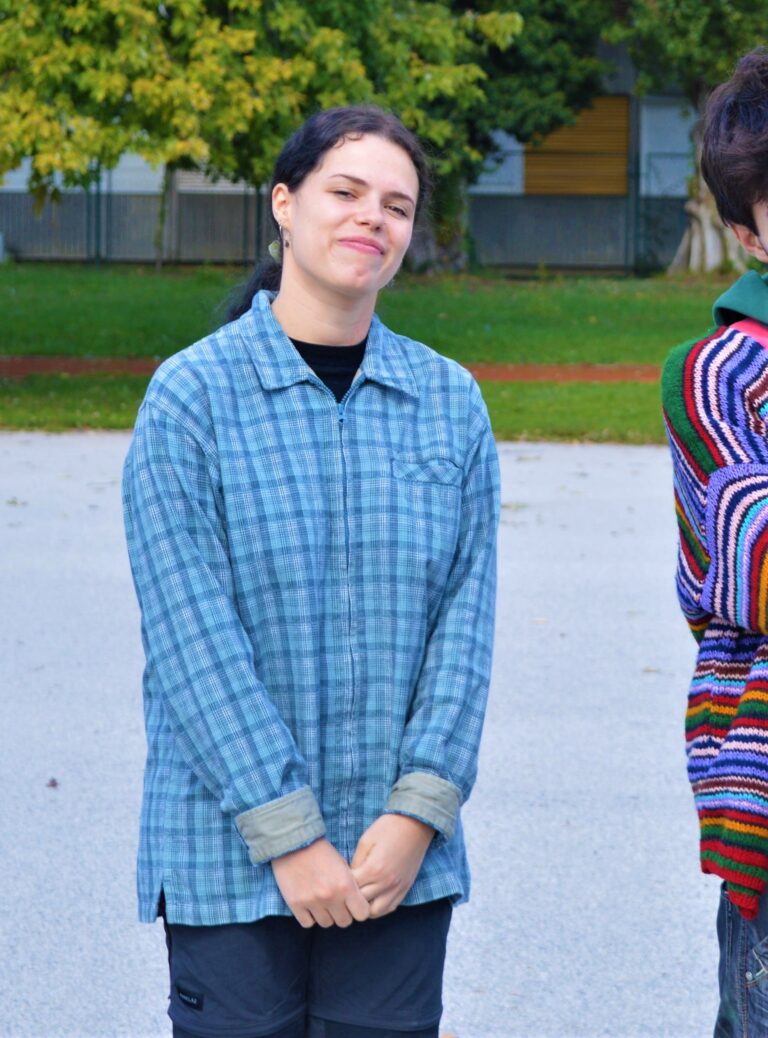 I decided to go on a volunteer project because I didn't really know what to do during this year and because I needed to go somewhere else, in a different country, to see new things and meet new people. I was interested in this project because I was looking for a project related to environment and I had experience in gardening with children.
Because it was my first time in this country and as a volunteer, I didn't really have expectations. I was just a bit stressed to go somewhere I didn't know, to speak English every day for the first time of my life and to meet new people who didn't even speak my language. But, all these fears disappear very quickly. As soon as we all met each other, we immediately connected. We lived in the same hostel in which the living conditions were definitely not the best ones but it certainly brought us even closer. We learnt how to cope with all the issues at the hostel and we created our own bubble in which we knew we would always find support and love. 
From the beginning to the end of this adventure, we did everything together.
We shared rooms and had multiple movie nights. We shared dinners, lunches and breakfasts and had debates over food tastes and customs of each of us – for example the endless debate over toasts with butter and chocolate powder vs. toasts with olive oil and sugar. We had several nights out, danced together, drank together and laughed so much together. To follow Zagreb culture, we went to so many cafés and ate several times the so delicious "Baklava" Turkish pastry. We travelled all together, to Ljubljana and Bled Lake, Samobor, Plitvice Lakes and Split. We even played "Ninja" in the middle of a square and in an antique building in Split. These are the kind of moments you cannot forget and that will remain with you forever. 
Every obstacle we faced in this project, we faced them together. They permitted us to see different aspects of every of our personalities, to help and support each other and eventually to create special bonds.
The time spent with Jasmina was so nice. All the activities we did all together made us even closer. She is such a kind supervisor, always here to help and to make sure her volunteers have everything they need. Many things didn't happen as planned during this project to such an extent that we didn't even do what we were supposed to do but, I still enjoyed my time with Jasmina. 
The ESC is such an unforgettable experience. You will do things you wouldn't have done in another context and you didn't even know yourself able of, you will discover new places and see beautiful things, you will know to learn more about a new culture and country, you will meet amazing people who will probably change you forever and you will learn so much about yourself.
                                                                                                                                                        – Elise, France
Hey! My name is Nika and I come from Georgia. Recently I have been doing a lot of volunteering projects across Europe through Europen Solidarity Corps (ESC) since I have learned the importance of volunteering and the opportunities it offers not only to the communities of service but to yourself as well. It lets you explore the country and the culture, meet people from all across Europe and contribute to the causes that are dear to your heart. This was also my reason for choosing this project in Zagreb and I am grateful that I have made this choice since my time here has been exceptionally enriching and fun.
To start, I would like to mention the OAZA organization and its team which has been extremely receptive in many circumstances to our problems and concerns. Our project coordinator Jasmina was always at her disposal for any questions or inquiries. The logistics of the project were well-planned and organized. I am grateful to the organization for giving us such an amazing opportunity to be part of this project in Zagreb. With many ups and downs, in the end, we and the OAZA team created a unique 1.5-month experience that I will remember forever. 
During this month and a half, we visited local schools and kindergartens and helped them with some of the tasks they were not able to carry out independently. These tasks included: making polygons for the elementary school children, designing and painting children's games in the school area, gardening, and planning various activities for the children. We also worked to raise awareness about environmental issues. It has been a professionally and personally enriching experience for me. Besides the project activities, the highlights of my time in Zagreb have been being part of a team of 9 incredible human beings.
I get very emotional anytime I remember the memories we have created altogether during this time. We lived together, we worked together, we traveled together and we had so many adventures together. I felt like this group was extremely well-functioning and united. The atmosphere was super peaceful, safe, and fun. The people were always there for me when I needed help. I could never describe in words how grateful I am to have met these people in my life and I cannot wait to meet all of them in the future somewhere in the world again. Some of my favorite memories are connected to our trip to Slovenia and Plitvice lakes, as well as our fun weekends and night-outs in Zagreb. 
I will always remember my time here and cherish the moments I experienced with the people around me. It was one of the experiences that will always remain in my heart.
                                                           – Nika, Georgia