A team of volunteers from all over Europe participated in our two-year Green Fingers project in the period from the 23rd of August to the 20th of October.
Below you can find the second part of the testimonials:
7. Carolina, Portugal
"Hi! My name is Carolina, and I'm a 23 years old girl from Portugal. This year I decided that I wanted to do some volunteering work, in the summer months and abroad, so I could meet different people and cultures and improve my English.

I'm currently studying, so the Green Fingers Autumn project was perfect for me, two months between August and October. When I found the project, I was so hyped because I knew that it was meant to be, and I was going to Zagreb to have my first solo and abroad experience. The organization and I share a lot of values, about life, nature, lifestyle, spirituality and vegetarianism/veganism. The project itself was to do gardening in primary schools and to work with children from those same schools, doing workshops and activities about environmental awareness, sustainability, animal protection, change of diet and lifestyle, and we could also do a personal project for the volunteering group.

This project is part of the European Solidarity Corps, an initiative from the European Union which creates opportunities for young people to volunteer or work abroad or in their own country, to improve their soft skills and be in contact with new people, cultures and traditions. There are short or long-term projects and most of the expenses are covered, such as accommodation, food and transportation, and additional to that we also received some pocket money, so everyone has the same opportunity to experience something like this.

Before leaving my hometown I never thought that I would find a new home in 11 people from all over Europe. The bond and connection that we all have with each other and as a group is amazing and beautiful, and obviously we could never forget our mama Jasmina – our supervisor who became part of us.

The first few weeks with everyone were easy and chill, we got to know a bit of each other and the organization and its people. We did some team buildings and workshops about the organization and their values, had a Croatian class, and started preparing materials for the workshops with children. We also did a trip to Medvednica mountain, and it was hilarious and amazing, we joked, laughed and sing with everyone.

We took advantage of all the free time that we could get to know the city and the beautiful things it has to offer. The beauty of the buildings, the big squares, the busy streets, the beer, the pizza, the ice creams, all of this while enjoying the company of each other. We also started planning weekend trips to other cities in Croatia.

After the first two weeks we started the work for real, we did some gardening and cleaning in the schools' gardens, and we did a lot of workshops and games with the kids. They were the best, the sweetest and also a bit too energetic for us. We started to understood how each of us function in stress and outside our comfort zone. At the same time, the personal projects started. Irina (from Romania), who´s studying to become a psychologist, did a group therapy session, where we got a bit deep in ourselves. Rebecca (from Spain) – our PATA PATA queen – did a workshop in emotional intelligence, where we talked about things that makes us happy, and then we all talked about fear, and got even deeper. I think this was the turning point with all of us, the dynamics of the group started to change, and we started seeing through the first impressions.

In the upcoming weeks, we continued to do workshops with the schools and started preparing more stuff between all of us. We really enjoyed our time together, in the office, the Joyful Kitchen, the hostel, or going out to random places. We had an amazing time together, 11 girls and 1 boy, but we were always laughing and having inside jokes. No drama and no fights, it was spectacular. We had pizza day, Mile cooked for all of us, we were so happy, it was truly a happy day. We also did intercultural day when we all cooked something from our countries and did a little presentation to show the beauty and traditions of each place. Not only that, but we also planned trips to the seaside all together and every part of it was amazing.

In conclusion, I can say that I have new family all around Europe. I am so grateful for each one of them, I laugh with them, I learn from them, and I came home with the best memories and with an enormous feeling of 'saudade'. I miss little things that each one of them does, little characteristics that make them even more exceptional. So, to everyone considering going abroad to have a volunteering experience with new people in this amazing organization, I say go for it. You won't regret it, and you will make friends for life.

Thank you Kika, Concetta, Irina, Lara, Amelie, Rebeca, Marta, Damian, Emma, Anisa, Meli, Jasmina, Mile and Karolina. I will never forget you :)"
8. Margarida, Portugal
What did you do during your stay in Croatia? What were your tasks?

Volunteers worked in maintaining school gardens such as planting, sowing, weeding, working with garden tools and hoeing the soil and organizing and holding workshops about different topics such as environmental protection, recycling, ecology, intercultural and language workshops and various arts and crafts activities.

What was your favourite thing about working and living in the community, and what was challenging for you?

My favourite part was meeting different people and volunteers from different countries. The food was the most challenging part due to the fact that it was a different culture and food habits, nevertheless I was able to overcome the challenges and adapt to different situations. Thanks to the positive and most challenging parts about this experience, our group of volunteers developed a strong connection and friendship.

Why did you decide to go abroad and volunteer?

After completing my studies and getting my degree, I didn't know what to do next. I discovered the website of the European Solidarity Corps and instantly knew that I wanted to volunteer abroad.

What has volunteering given you?

I chose to be part of Green Fingers project because I wanted to gain experience working with children and connect with nature. I learned a lot and that experience will help me in the future when it comes to finding a job. Living abroad made me grow in a lot of ways such as becoming more independent, responsible and empowered.

What did you do in your free time?

I spent most of my free time exploring the city and also went on trips with other volunteers. I had so much fun and I will keep the most amazing moments, food, views, and memories with me.

What are your plans after the project?

I will try to find a job in my home country.

Would you recommend the experience of international volunteering to someone?

Absolutely! I think this experience has definitely enriched my life and I would recommend for someone to be brave and explore different opportunities. Volunteering helps not only the local communities and the specific target but also helps you grow in so many ways.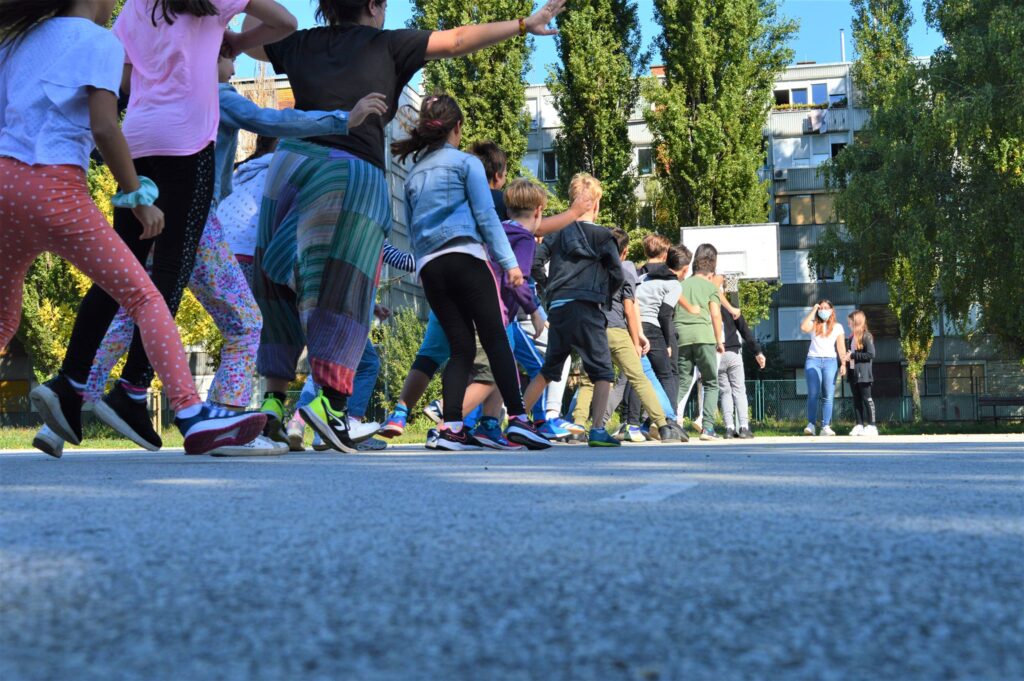 9. Irina, Romania
"My experience in the Green Fingers project was what I needed in more ways than I expected. I loved the office hours where we got to brainstorm, collaborate in a creative way and work together. Best then that, were the hours we spent in school, with children. It gave me a lot of joy to see them play, learn and laugh. It was nice to see them benefit from our work as a team and to see our ideas come to life. When my friends back home asked me what it was like to work with children, I told all of them the same story – we had this physical activity with them, and they were divided in two groups. One of the girls who had some colorful cat ears, for some reason she liked me. So, when she saw that she was put to be in the team my friend, Carolina was coordinating, she ran back to my team, and she told me in Croatian that she will play with me. I grabbed her hand to take her to the other group, but she didn't want to go, so I took her in my arms, and, like a little monkey, she wrapped her small arms and legs around me immediately. She started to giggle because she liked the juvenile way in which I made her go back to her team. This was just one encounter but most (if not all) of them made my heart melt and energized me. I became more aware of my impact as a role-model and maybe as a future teacher or mentor for youngsters. On our last week, one school asked OAZA for an interview from some of us for the school paper. Two of the pupils took our interview with just a little help from their English teacher and they were so clever and curious.

I decided to join this project because I had little background working with children, I am majoring in clinical psychology and one year earlier I started to develop a hobby out of getting different plants and taking care of them. But more than that, I felt like I needed an adventure that would prove me. I had learned some practical skills that could be useful to individuals and groups, outside of my bubble. Green Fingers helped me understand how adaptable and resourceful I truly am. It also got me to become friends with some amazing people, mostly women. They were all so unique and interesting. We traveled together, we ate together, we shared personal struggles with each other. And they became my people. Last week in Zagreb was a bit hard for me because it was full of goodbyes, and I felt like I left too quickly.

Zagreb, as a city surprised more than I thought it could, my to-see list it wasn't done at the end of the project. Out of all the places I got to see, my favorite was this little jazz bar where they held a live concert. There is a lot you can do and see, our coordinator, Jasmina, took us to see the city and my head was always turning left and right. But the jazz concert in somewhat of a living room, gave me this magical feeling. I have been to Croatia with my family, to the coast, about ten years before. When we visited Jelsa and Split I started to remember and I was so peaceful and amazed almost like, well… a child.

One experience I am particularly grateful for is the personal project. If you join Green Fingers, you can talk to your coordinator and find time in the schedule to put one or more of your ideas and skills to practice. As a future psychotherapist, I decided to put to practice some of the resources I had and to help my team members find theirs through group therapy, art therapy and meditation. This empowered me to have more courage while pursuing my future career.

After struggling with the pandemic situation, like most people, I felt scared and lost. These two months had me evolve more then I could on my own for one year."
10. Damian, Romania
"How did Green Fingers start?

So … I'm a very curious person and I like to try as many new things as possible. I saw this project on the page of the Romanian association and I signed up. Everything went very well, I took part in an interview, I started to get the necessary documents and that's how the "story" started. Arriving in Zagreb, everything started to become reality (in my mind there were all kinds of scenarios), I started to meet new and wonderful people to whom I am grateful because if they were otherwise it was very difficult for me. In the first week we got used to each other, we were introduced to the project and what it entails, we took part in games with the role of getting to know each other better and much more. Then we started working and putting into practice the ideas for the workshops that were to be held in different schools. Contact with children was something wow, because they are so full of life, they have so much energy that they charge you and yes, very curious. In addition to the activities I did with children, I also did gardening. yes, I worked in the garden, I planted flowers, I prepared the ground, I worked the soil, which I really liked. Another thing that I really liked was the cultural exchange, in which we had to prepare traditional food and present something about our country. Everything I lived in this project, I changed as a person and it made me aware of certain things. I'm not saying it's easy, but if you have the right people ( I was lucky), this experience is wonderful. I am glad that I took part in this project and I would even repeat the experience."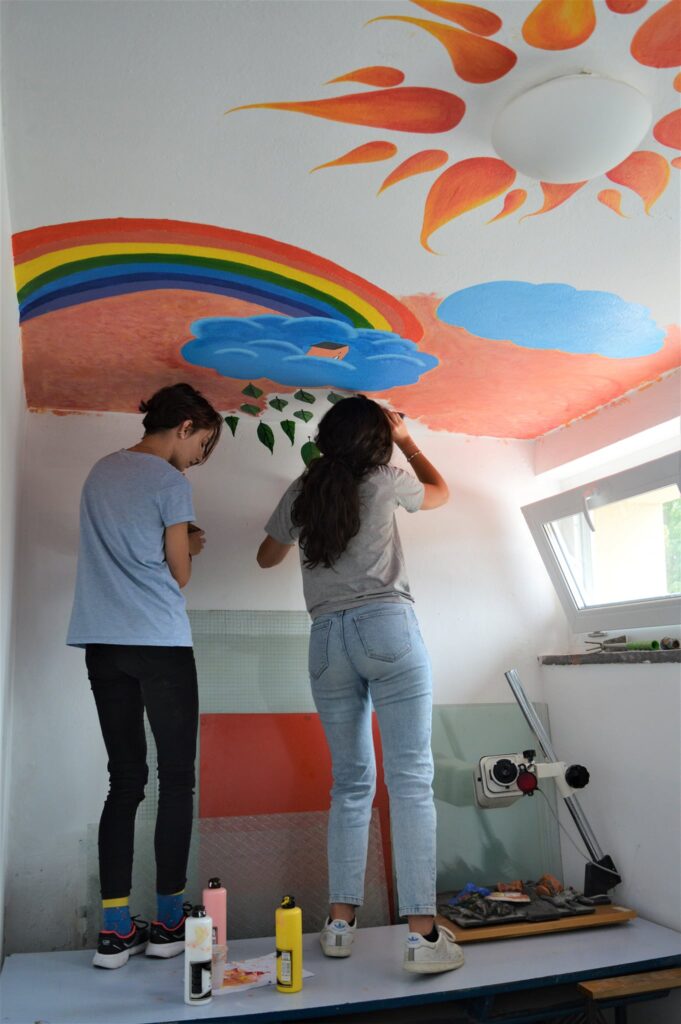 11. Marta, Spain
What did you do during your stay in Zagreb? What were your tasks?

During my stay in Zagreb I had time to work on Green Fingers project, discover the city, spend free time with other volunteers and new people and travel around Croatia. As a volunteer in a great team of 12 volunteers, I was working in the project from Monday to Friday. Working on the project involved a wide variety of activities: trainings, team-building activities, school workshops brainstorming and preparation, personal projects and going to the school for gardening or carring out the workshops with the children. We were working most of the time during the morning, we ate lunch together in the OAZA restaurant and we were finishing work in the afternoon.

What was your favourite thing about working and living in the community, and what was challenging for you?

I loved sharing things, food and experiences. We all came from different places and spending time together made us know other cultures and realities, new food and ways of working. It was because of this that sometimes it could be challenging, some people were more independent and other were thinking more collectibly. One challenge I would say I had was having to work and live with so many people, also finding a personal space. We all had to find our role in the group, learn to listen to everybody's ideas and try to work together as a team. In our case we managed pretty well, and we could live and work together very well respecting each other. We were all very motivated!

Why did you decide to go abroad and volunteer?

I had a past experience volunteering with ESC and it was one of the best things I had done in my life. I decided to go abroad and volunteer again in this project because I didn't have short term plans and I wanted to meet new people from other places and contribute to the community. What attracted me the most about this project was that it was about sustainability and education, which is something I am very interested in.

What has volunteering given you?

It has given me friendships and memories I am taking with me and a lot of experience. I learned a lot working with the volunteers and with the children. I have a lot of new ideas for activities when working with youth and knowldege about non-formal education. We made some activities organized by volunteers and others by OAZA team that helped me in my way to discover myself. I believe all this experience in general helped me grow for becoming every day a better version of myself. Volunteering gave me the feeling of being part of a big community.

What did you do in your free time?

During my free time I was spending a lot of time with the volunteers. We were going to the city center to discover the city or just to hang out and spend time together. We went out for some drinks, to eat in a restaurant, going to the park or going to see the views of the city from a hill near the hostel. Sometimes when we were tired we were just staying in the hostel, playing cards or speaking with other people or cooking something for dinner. I also travelled some weekends to visit other places in Croatia with the volunteers which were the best experiences to get closer within each other.

Has the coronavirus pandemic affected your project?

We had to adapt our activities to the sanitary restrictions. We just had to consider them while planning but it didn't affect so much. We could still work with children face to face in the schools wearing mask and trying to leave a safety space.

What are your plans after the project?

My plans are to work and keep finding ways to contribute to society in my city. I am going to work in the youth office of the city hall and I am going to keep contribuiting trough non-formal education by joining a scouts group as a coordinator. I am thinking to study a master abroad in the future. My plan is also to not stop travelling, I want to keep knowing new people, new places and cultures. So everytime I can I will try to visit my new friends living in other places in the world.

Would you recommend the experience of international volunteering to someone?

I would recommed it defenetly. If you want to leave your comfort zone this is a good oportunity. You can travel, contribute to society and meet new people from other countries.
12. Rebeca, Spain
"August 21, 2021. My adventure begins, I take a plane to visit an unknown country, an unexplored city, Zagreb. Why? Because I have decided to be part of the European Solidarity Corps. My friends and family asked me what is this ESC, I tried to explain to them that it is "a different Europe", a desire to achieve a better world, one more step towards interculturality and solidarity.

Ok, Rebeca, we know you are a dreamer, but what are you going to do in Zagreb? I explained that I was going to collaborate with an NGO, OAZA, with which I would work with children in schools, teaching education in values and environmental awareness through workshops, and I would learn how to gardening among other skills.

My friends and family kept looking surprised, they didn't quite understand it, but they felt it like a good opportunity for me, if it made me happy it made them happy too.

Continuing with the story, August 21, here I am, catching my plane.

At that time I couldn't imagine everything that would come next. That those 11 people who would accompany me in the project, would end up becoming my family. And our supervisor, a "Croatian mom", always aware of everyone. I could not imagine that I would do a personal project about one of my passions, emotional intelligence, and that I would see great results in my colleagues. I could not imagine that I would share special moments with Croatian children, giving them my energy and receiving their love. I did not imagine that I would find a Polish sister, being longterm in the same NGO, which would help me overcome obstacles, and believe in pure and true friendship.

There were certainly many things that I had never imagined. But today, two months later, I can only say thank you. I have laughed, I have cried, I have loved and above all I have grown. Every day at the office, every session at school, every morning in the garden, every night at the hostel and every shared hug, are today part of me and my future. Thanks to the entire OAZA team and thanks to my new European family. See you in Alicante."